24 Well glass bottom plate with #0 cover glass (0.085-0.115 mm)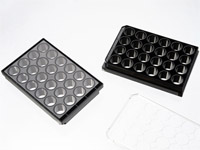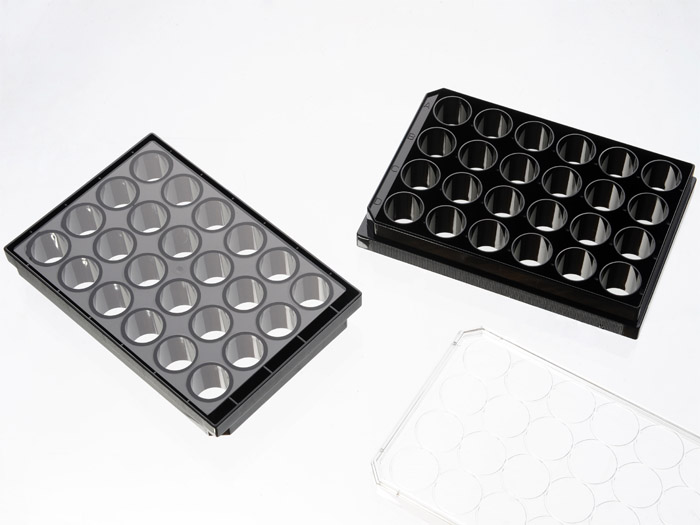 24 well glass bottom plate #0 cover glass (0.085-0.115 mm). Black frame, with lid. Individually packed. Designed for high resolution imaging such as confocal microscopy.
Features:
Suitable for long term tissue culture
Manufactured in a class 100,000 clean room
Frame made from virgin polystyrene.
German high quality cover glass of superior optical quality.
A USP class VI adhesive is used to assemble the cover glass and the plate.
Sterilized by Gamma radiation.
Conforms to ANSI/SBS 1-2004 standards
Suitable for:
Differential Interference Contrast (DIC)
Widefield Fluorescence
Confocal Microscopy
Two-Photon and Multiphoton Microscopy
Fluorescence Recovery After Photobleaching (FRAP)
Förster Resonance Energy Transfer (FRET)
Fluorescence Lifetime Imaging Microscopy (FLIM)
Total Internal Reflection Fluorescence (TIRF)
Super-Resolution Microscopy
Technical specifications
» View technical specification of different coverslips.
| | |
| --- | --- |
| Frame color | black |
| Coverslip | #0 cover glass (0.085-0.115 mm) |
| Length | 127.50 mm |
| Width | 85.25 mm |
| Height | 20 mm |
| Height with lid | 22.5 mm |
| Stacking height (with lid) | 19.5 mm |
| Bottom height | 0.9 mm (bottom of coverslip to plate bottom) |
| Bottom height tolerance | ±50μm (whole plate) |
| Well to well center distance | 19.3 mm |
| Well bottom area | 190 mm2 |
| Maximum volume | 3.6 ml |
| Temperature Range | -20°C to 50°C |
Dimension diagram (units in mm)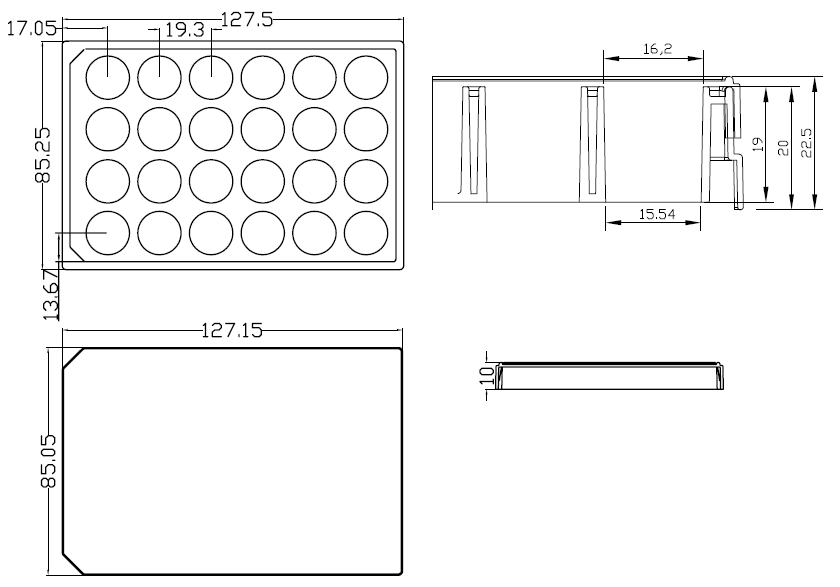 Cited Publications before 2019 (3)
Tumor cell escape from therapy-induced senescence
T Saleh, et al., Biochemical Pharmacology Available online 19 December 2018
Quote: "For the unsorted cell experiment, H460 cells were plated in a 24-well optical glass-bottomed plate (P24-0-N, Cellvis, CA, USA) at 1 x10 4 cells/ml with a total of 1 ml of medium (DMEM described above) in each well."

A perfused human blood–brain barrier on-a-chip for high-throughput assessment of barrier function and antibody transport
Nienke R. Wevers, et al., Fluids and Barriers of the CNS201815:23
Quote: "TY10 cells grown in a collagen-I coated 24-well glass bottom plate (P24-0-N, Cellvis, Mountain View, CA, USA) were fixed with 4% paraformaldehyde"

Lipid metabolism and pro-oxidant/antioxidant balance of Halamphora oceanica from the Gulf of Mexico exposed to water accommodated fraction of Maya crude oil
HF Olivares-Rubio, Ecotoxicology and Environmental Safety Volume 147, January 2018, Pages 840-851
Quote: "The purified sample was placed in 24 well Glass Bottom Plates with black frame and lid (Cellvis, catalogue number P24-0-N) for fluorescence. The excitation and emission wavelengths"