384 Well glass bottom plate with high performance #1.5 cover glass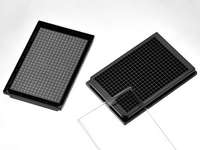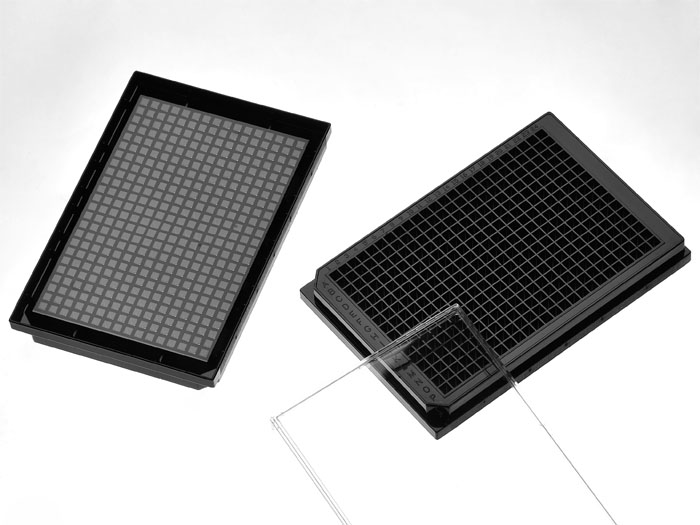 384 well glass bottom plate. Black polystyrene frame with high performance #1.5 cover glass (0.170±0.005mm), with lid, Individually packed. Designed for high resolution imaging such as confocal microscopy.
Features:
Suitable for long term tissue culture
Manufactured in a class 100,000 clean room
Plate made from virgin polystyrene.
German high quality cover glass of superior optical quality, the cover glass has a thickness of 0.170±0.005mm
A USP class VI adhesive is used to assemble the cover glass and the plate.
Sterilized by Gamma radiation.
Suitable for:
Differential Interference Contrast (DIC)
Widefield Fluorescence
Confocal Microscopy
Two-Photon and Multiphoton Microscopy
Fluorescence Recovery After Photobleaching (FRAP)
Förster Resonance Energy Transfer (FRET)
Fluorescence Lifetime Imaging Microscopy (FLIM)
Total Internal Reflection Fluorescence (TIRF)
Super-Resolution Microscopy
Recommended for:
Confocal Microscopy
Super-Resolution Microscopy
Technical specifications
» View technical specification of different coverslips.
| | |
| --- | --- |
| Frame color | black |
| Coverslip | #1.5 high performance cover glass (0.170±0.005mm) |
| Length | 127.60 mm |
| Width | 85.60 mm |
| Height | 14.33 mm |
| Height with lid | 16.80 mm |
| Bottom height | 2.78 mm (bottom of coverslip to plate bottom) |
| Well to well center distance | 4.50 mm |
| Well bottom area | 10.89 mm2 |
| Maximum volume | 0.12 ml |
| Temperature Range | -20°C to 50°C |
Dimension diagram (units in mm)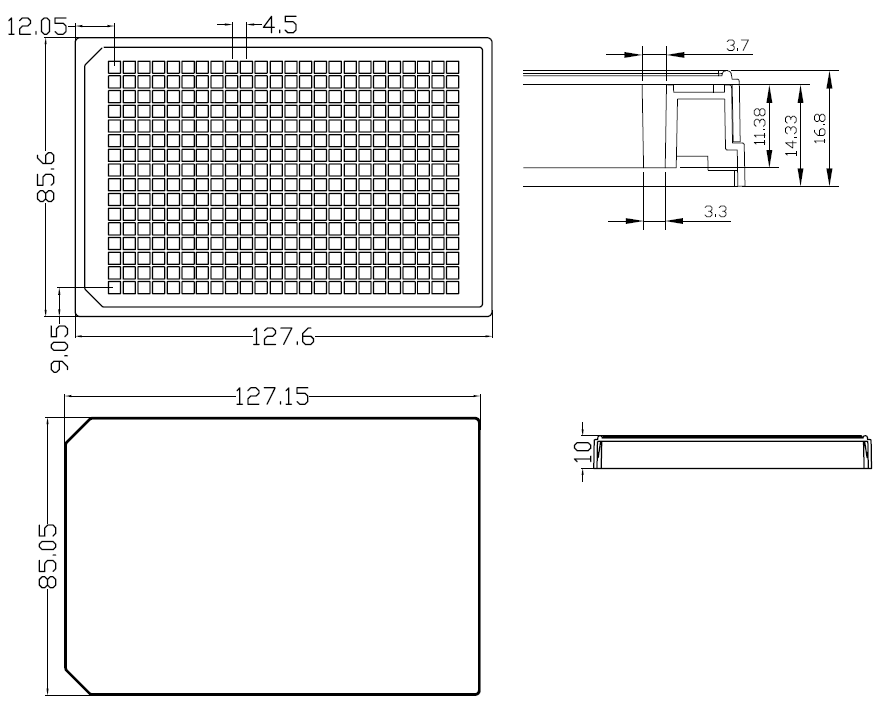 Cited Publications before 2019 (3)
Plant HP1 protein ADCP1 links multivalent H3K9 methylation readout to heterochromatin formation
Shuai Zhao, et al., Cell Research, volume 29, pages54–66 (2019)
Quote: "Equal volume of nucleosome array and ADCP1 were mixed in a 384 well glass bottom plate (Cellvis, P384-1.5H-N)."

Multimodal on-axis platform for all-optical electrophysiology with near-infrared probes in human stem-cell-derived cardiomyocytes
A Klimas,, BioRxiv, February 21, 2018
Quote: "human iPSC-derived cardiomyocytes (iCell Cardiomyocytes2 ™, Cellular Dynamics International (CDI), Madison, WI) were thawed per the manufacturer's instructions and plated on fibronectin coated wells in 384-well glass-bottom plates (P384-1.5HN, Cellvis, Mountain View)"

Label-free cell-based assay with spectral-domain optical coherence phase microscopy
Suho Ryu et al., Journal of Biomedical Optics, vol19, issue 4, 2014
Quote: "The 100 μl of the sample was loaded on glass bottom multiwell plates (In Vitro Scientific, Sunnyvale, California, P384-1.5HN) and incubated for 24 h prior to experiment."