384 Well glass bottom plates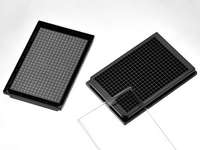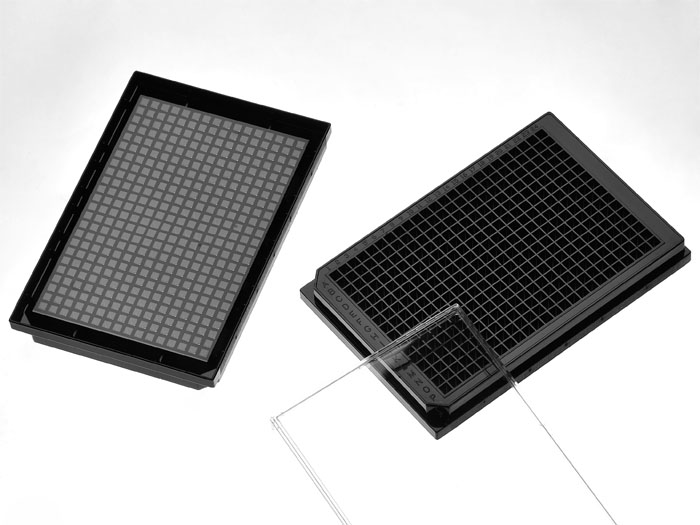 Designed for high resolution imaging such as confocal microscopy.
384 well glass bottom plates are suited for high throughput assays.
* Click individual products to view detailed technical specs. request a free sample or get a quote.
Features
Suitable for long term tissue culture
Manufactured in a class 100,000 clean room
384 well plates are made from virgin polystyrene.
German cover glass of superior optical quality
A USP class VI adhesive is used to assemble the cover glass and the plate.
Individually packed in easy to open trays
Sterilized by Gamma radiation.
Conforms to ANSI/SBS 1-2004 standards
Cited publications before 2019 (3)
Plant HP1 protein ADCP1 links multivalent H3K9 methylation readout to heterochromatin formation
Shuai Zhao, et al., Cell Research, volume 29, pages54–66 (2019)
Quote: "Equal volume of nucleosome array and ADCP1 were mixed in a 384 well glass bottom plate (Cellvis, P384-1.5H-N)."

Multimodal on-axis platform for all-optical electrophysiology with near-infrared probes in human stem-cell-derived cardiomyocytes
A Klimas,, BioRxiv, February 21, 2018
Quote: "human iPSC-derived cardiomyocytes (iCell Cardiomyocytes2 ™, Cellular Dynamics International (CDI), Madison, WI) were thawed per the manufacturer's instructions and plated on fibronectin coated wells in 384-well glass-bottom plates (P384-1.5HN, Cellvis, Mountain View)"

Label-free cell-based assay with spectral-domain optical coherence phase microscopy
Suho Ryu et al., Journal of Biomedical Optics, vol19, issue 4, 2014
Quote: "The 100 μl of the sample was loaded on glass bottom multiwell plates (In Vitro Scientific, Sunnyvale, California, P384-1.5HN) and incubated for 24 h prior to experiment."