4-Chamber 35mm glass bottom dish with 20 mm microwell, #1.5 cover glass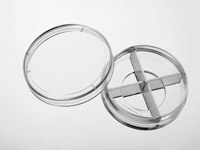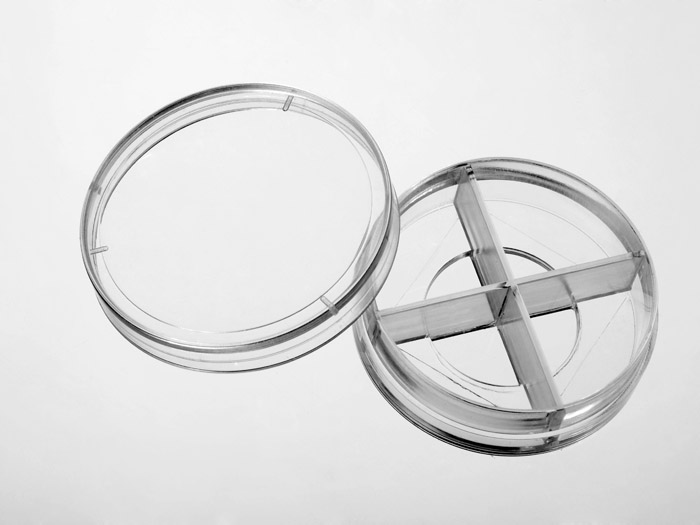 35 mm glass bottom dish with 4 chambers, 20mm microwell, #1.5 cover glass (0.16-0.19mm). Designed for high resolution imaging such as confocal microscopy.
Note: We found that a small percentage of microscope adapters are too small for our 35 mm glass bottom dishes. Please check carefully the dimension diagram. If your adapter is too small, you should use our 29 mm glass bottom dish instead.
Features:
Suitable for long term tissue culture
Manufactured in a class 100,000 clean room
Dish made from virgin polystyrene, tissue culture treated.
German cover glass of superior optical quality
A USP class VI adhesive is used to assemble the cover glass and the dish.
Packed in easy to open peelable bag
Sterilized by Gamma radiation.
Suitable for:
Differential Interference Contrast (DIC)
Widefield Fluorescence
Confocal Microscopy
Two-Photon and Multiphoton Microscopy
Fluorescence Recovery After Photobleaching (FRAP)
Förster Resonance Energy Transfer (FRET)
Fluorescence Lifetime Imaging Microscopy (FLIM)
Total Internal Reflection Fluorescence (TIRF)
Super-Resolution Microscopy
Recommended for:
Technical specifications
» View technical specification of different coverslips.
| | |
| --- | --- |
| Coverslip | #1.5 cover glass (0.16-0.19 mm) |
| Temperature Range | -20°C to 50°C |
Dimension diagram (units in mm)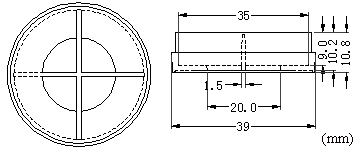 Cited Publications before 2019 (8)